"SOMETHING (RATHER THAN NOTHING)" PODCAST INTERVIEW
• WE ARE HAWKINS •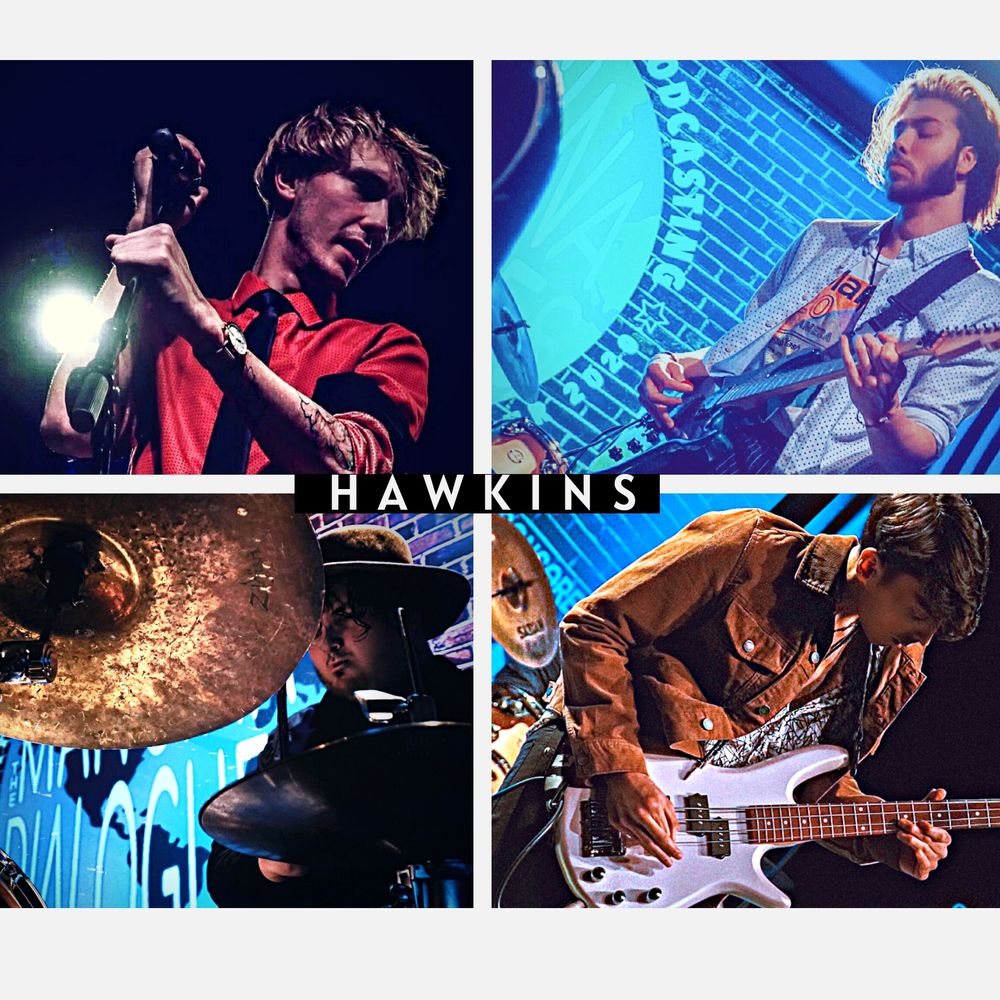 Hawkins balances energetic Rock and Roll mixed with infectious hooky Pop sophistication. The band embraces an ever-more genre-bending Pop Rock aesthetic as they continue to captivate their audience with musical virtuosity in a manner that is reminiscent of their Rock and Roll predecessors.
 
They have performed on countless major stages across the East Coast. Notable performances include Mohegan Sun Casino, The Bitter End, Foxwoods Casino, and The Pleasantville New York Music Festival. In Pleasantville, they shared the stage with illustrious acts such as ​Blues Traveler​, ​Suzanne Vega​, and​ Living Colour​. In October 2021 the band will be performing at the Toyota Oakdale Theatre.
Within only their first year of establishing themselves, they have gained an astonishing 4,500+ followers and 10K views combined on all social media platforms. Their talent has been praised by music legends like Eddie Money, Noel E. Monk (former manager of The Sex Pistols and Van Halen), and Michael Caplan (former VP of Sony Music). 
Their debut single "Lights Off" has been written and produced by the band themselves and mastered by the two-time Grammy award winner industry giant, ​Nathan Dantzler. The single was released on all streaming platforms on July 31st, 2020 and within not even a month of their debut release the band has already gotten 110,000+ streams on Spotify.
Hawkins' second single realease Sober hit platforms in July of 2021 to great reviews! Several more singles are in the works to be released later this year. You can get a sneak peak as to what's to come at their live shows where they have debuted several of their upcoming singles. 
HAWKINS CONSIST OF MEMBERS: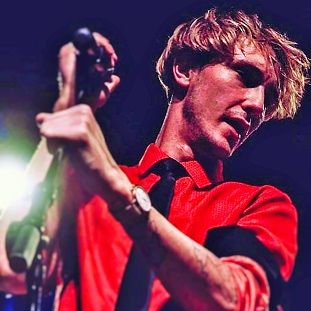 Hawkins French
Vocalist
Hawkins is an extraordinary front man who injects raw passion and tremendous energy into every song. A daredevil at heart (as he was previously a sponsored skateboarder, martial artist, and actor), he's just as adventurous when it comes to his vocal approach. Hawkins possesses a highly unique voice that can change in dynamic - effortlessly. His vocal range can hit electrifying notes that many singers wouldn't dare try, as well as sing with all the passion and vocal prowess of a singer/songwriter. The combination of his vocal abilities, powerful stage presence, and unbridled commitment make Hawkins a must-see band.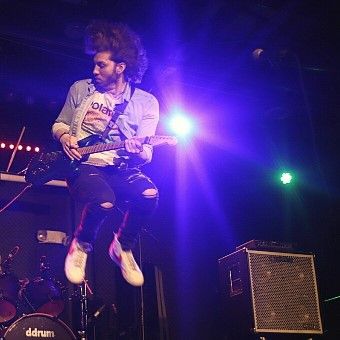 Joseph Frank
Guitarist
Joseph began learning the guitar at the age of eight, by age ten he had already been performing on stage and had gotten the attention of world renown brand "Fender" as his skills as a guitarist developed rapidly. He continues to wow audiences every time he steps on a stage. Joe is a multi-talented musician who is also quite skilled on the piano, bass, and drums. Though only in his 20's he has spent over sixteen years perfecting his craft as a full-time musician, songwriter, music producer, and music instructor.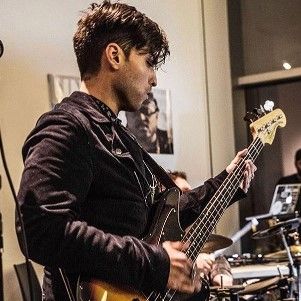 Richard Frank
Bassist
Ricky the multi-talented bassist of the band is one of the driving forces behind the inception of the group. Early on, trouble brewed in his life as he was diagnosed with a muscle disease at age sixteen. He became bedridden but in that arduous era of his life, he promised his brothers that his health would improve and that they would pursue a career in music. He's proud to say, he's kept that promise as he's recovered and continues to press on despite his past ailment.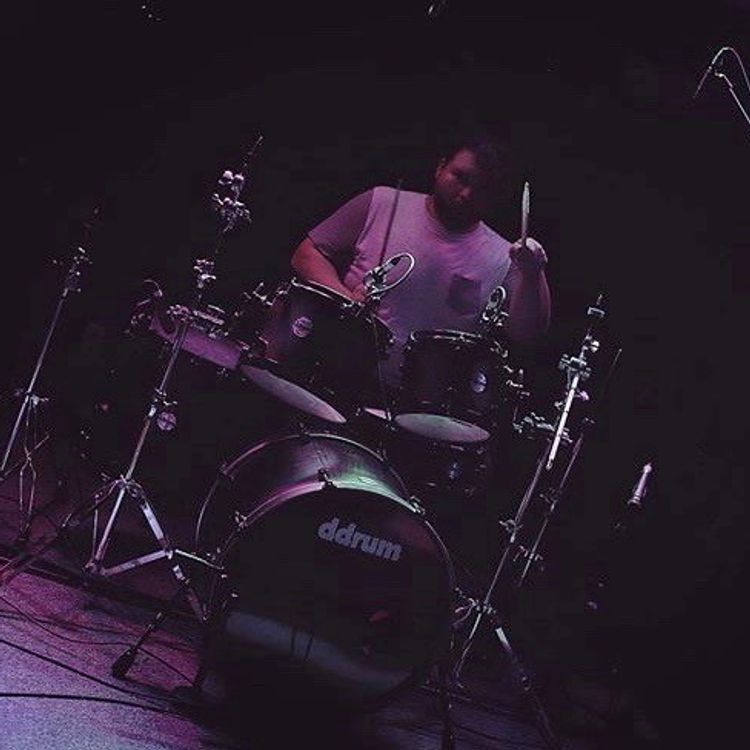 Joshua Frank
Drummer
Joshua much like his brothers Joseph and Ricky is also multi-instrumental musician. He began playing the drums in grade school. Since the early age of twelve, he has been mastering his technique which has often been characterized as intricate, yet powerful and unrestrained. Additionally, Josh has experience as a producer, songwriter, recording engineer, and live sound engineer. 
Song List
Ain't No Sunshine - Bill Withers
Come Together - The Beatles
Call Me The Breeze - Lynyrd Skynyrd 
Whole Lotta love - Led Zeppelin 
Voodoo Chile - Jimi Hendrix
Yellow - Coldplay
Sex On Fire - Kings of Leon
Peace Frog - The Doors
Can't You See - Marshall Tucker Band
Old Time Rock n Roll - Bob Seger
Sweet Emotion - Aerosmith 
Blue Suede Shoes - Elvis Presley
Won't Get Fooled Again - The Who
Saturday Night's Alright For Fighting - Elton John
I Saw Her Standing There - The Beatles
Sweet Home Alabama - Lynyrd Skynyrd
Float On - Modest Mouse
Midnight Rider - Allman Brothers
Tush - ZZ Top
Johnny B. Goode - Chuck Berry
Hot For Teacher - Van Halen
Rebel Yell - Billy Idol
And many more songs spanning from the 1960's to the present!